Let's make paella! You can absolutely do it, and for this veg-centric, California-inspired take on the Spanish classic, you don't need a special pan. Many paellas feature various meats and seafoods, but vegetarian paella can be a revelation. This version is fully loaded with a rainbow of seasonal vegetables cooked into a saffron and paprika-scented rice based dream. 
Once you have the technique down, the adaptations can be endless. Paella is a great way to use up random seasonal vegetables in your crisper, and leftovers are A-plus. And I'm going to tell you how it can be week-night friendly. Really!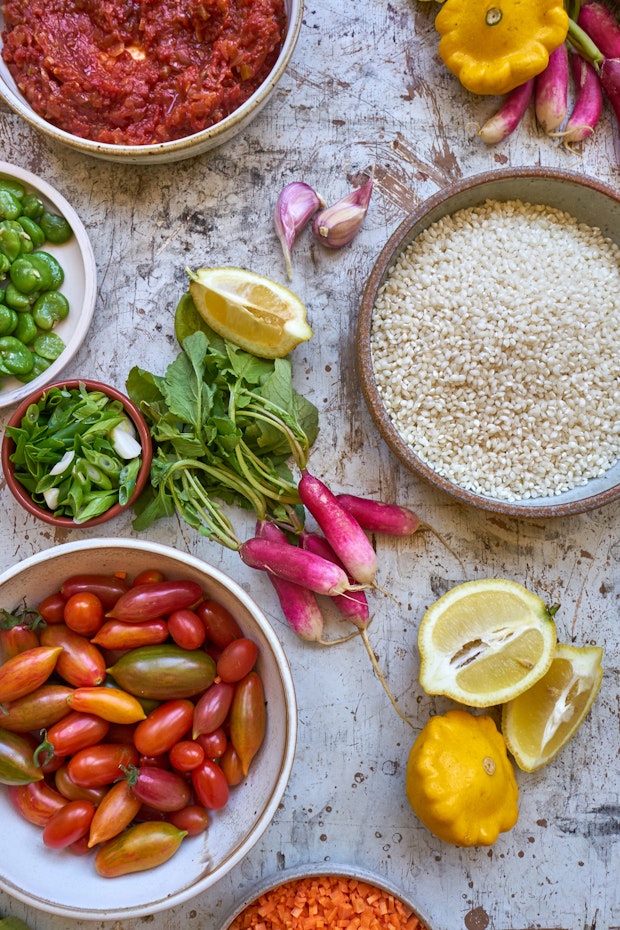 You Don't Need a Special Paella Pan
If you have a traditional paella pan, great! Use it. That said, don't let the lack of a special pan foil your paella endeavors. I've successfully cooked paella in copper pans (a favorite), as well as stainless steel, and cast iron. Use what you have, the wider the better. I'm including instructions for two different sized pans in the recipe, please reference the head notes. 
How to Make Paella Weeknight Friendly
Paella can be a great, realistic go-to weeknight recipe if you do one thing. Keep this sofrito on hand. Have some ready in the refrigerator, keep back up in the freezer. If you have a bit of saffron and paprika around, with some broth, rice, and seasonal vegetables, you're ready to make paella. And it's quite simple.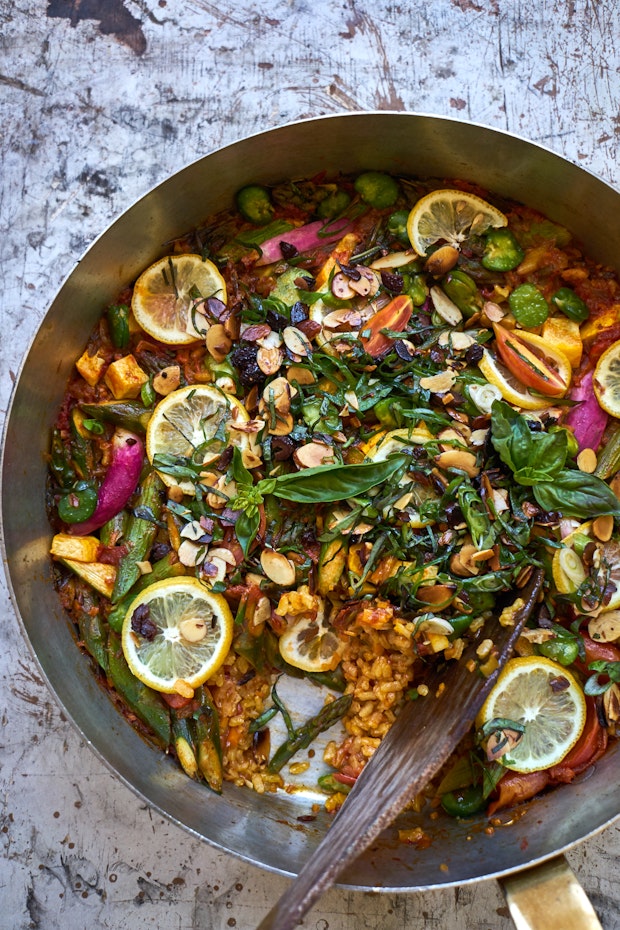 The Best Rice For Paella
Choosing the right rice for paella is key. Ideally, you want a short-grain, stubby paella rice, something like this, or this. Look for Bomba. Paella rices are celebrated for being able to absorb more water (or broth) than other rices, while maintaining structure. This translates to a paella with definition between grains – no mushy rice. I also love this article about choosing rice for paella with Russ Moore (of Camino in Oakland, CA). He uses a well-rinsed, local, Japanese short-grain varietal, and his paella is beautiful. If you do experiment with non-paella rice varietals, you'll need to play around a bit and adjust the liquids.
Can I Use Brown Rice?
I've tried. I've tested 100% brown rice paella, and blends. Here's the problem. Brown rice takes a lot longer to cook comparatively. So, the way paella comes together is the following. You get all your ingredients in the pan, stir once, and then leave it alone. This is half the battle when it comes to achieving a golden-crusted bottom (desirable!), see below. When you use brown rice, you end up with overcooked vegetables, because you need to cook it so long. My advice? Stick with tradition and use a short-grain paella rice.
The Trick to Achieving Socarrat Magic
Today's recipe focuses on paella made indoors, in a modern kitchen. That said, many paella are cooked grilled, over open flame. One of the things you hope to achieve in either scenario is socarrat – that golden crusted rice bottom. The skill, of course, coming from just the right amount of toastiness – not too little, not burned. If you're brave, give your paella a moment or so on a burner, after removing from the oven, to  increase your likelihood of some good socarrat! Takes some practice.
How to Make Vegetarian Paella Awesome
Here's the deal, you need to load up on seasonal vegetables. Experiment! There are so many ingredients that are fair game here. I like ingredients with a bit of structure, that can handle some cooking time. Asparagus (thicker stem vs. skinny), baby artichokes, summer squash, fava beans, cherry tomatoes, peas, etc.
Paella Verde Variation
A green version of the paella you see pictured here is fantastic. Simply stir in 1/4 pound of well chopped spinach or kale with the other vegetables.
This recent paella bender was inspired by a beautiful paella birthday dinner cooked by my friend Bonni Evensen. You can see pics in my Instagram feed.
Continue reading An Amazing Vegetarian Paella on 101 Cookbooks