Looking for plant-based foods to power your day? You're not alone. The New York Times reports that according to a Nielsen study, 40 percent of Americans are looking to eat more plant-based foods! Welcome to the plant power club. Eating veggies is on the rise, but it can be hard to find the right recipes. What plant-based breakfasts are easy to make and will keep you full all morning long?
Here's a key: plant-based protein! Nuts, seeds, whole grains, legumes, and soy help to keep you satiated and full throughout the morning. If you're eating toast or muffins, slather them with nut butter. If you're eating a smoothie, top with nuts or seeds. Opt for whole grains like oatmeal or legumes like chickpeas.
Here are some plant-based breakfasts that are easy to make and filled with protein to keep you full! There's a good mix of lightly sweet and savory, quick and easy and make ahead. Let's get started!
Easy Homemade Acai Bowl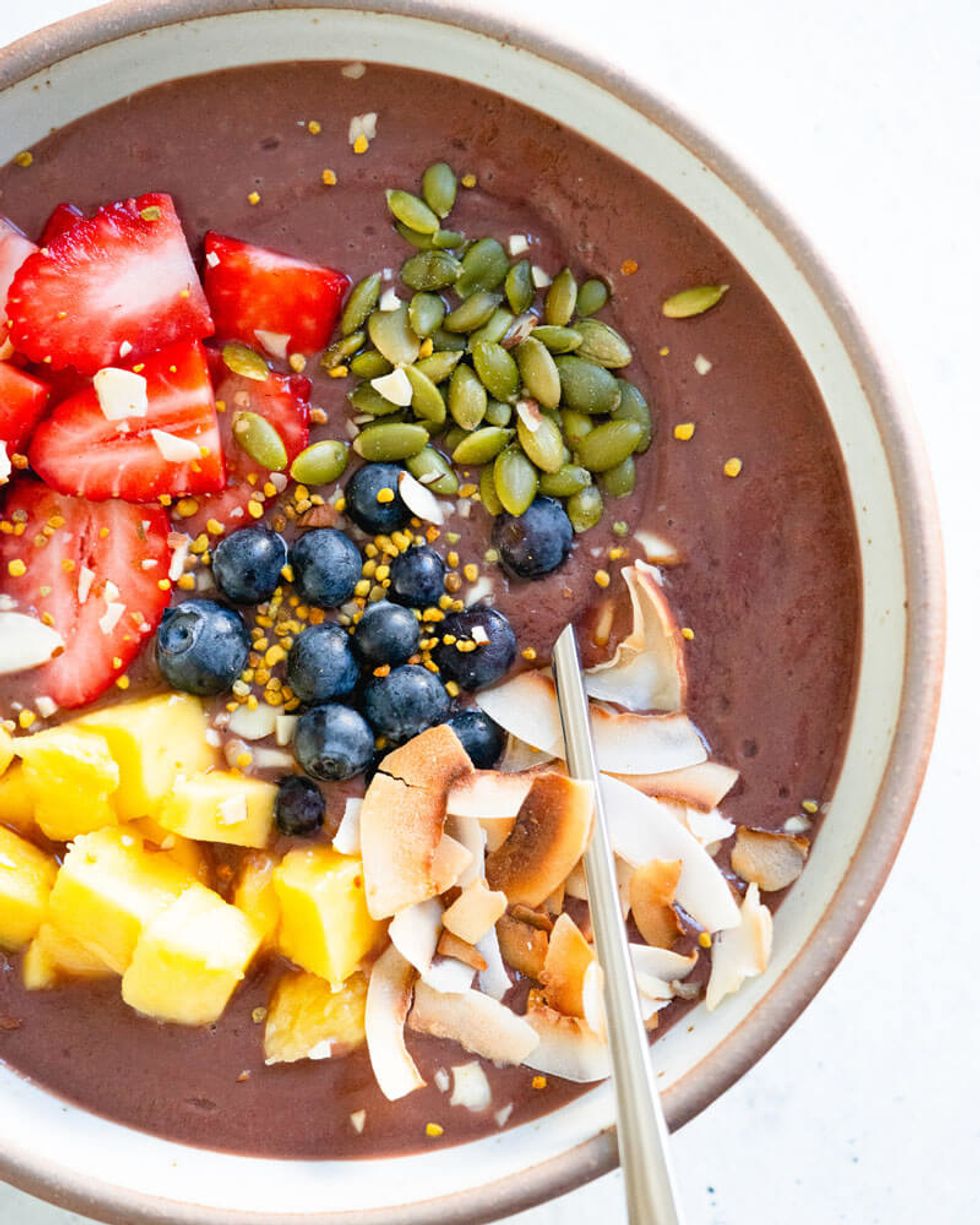 Brazilian-born acai bowls have become quite the trend: because they're that good! Make this frosty purple smoothie and top with nuts and colorful fruit. It's the ultimate healthy breakfast. You can find frozen acai puree in many mainstream grocery stores and online. (via A Couple Cooks)
Tofu Scramble Breakfast Tacos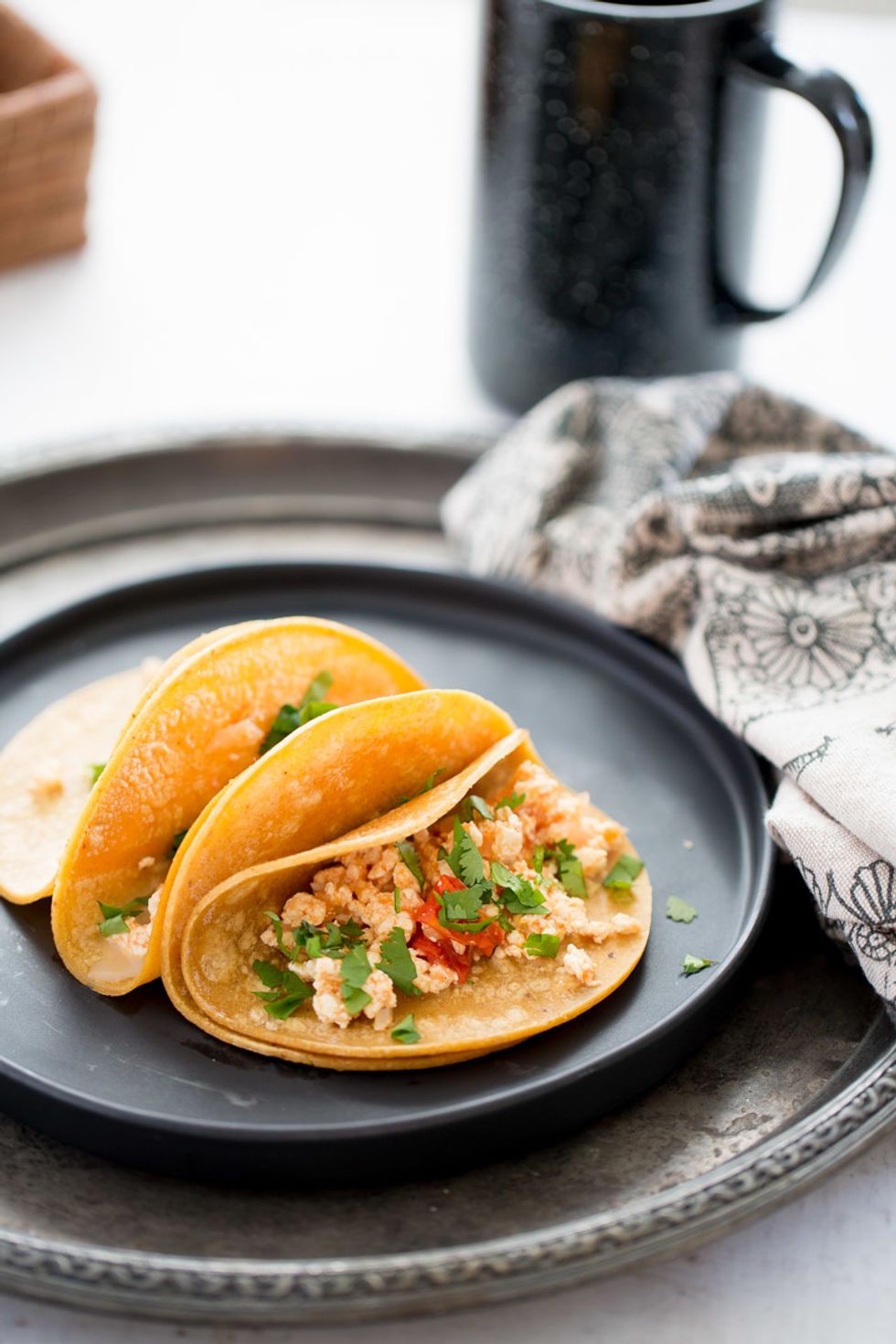 Spice up breakfast time with tacos! This Mexican-style tofu scramble makes a hearty and filling way to start the day: and it's savory! (via Brown Sugar & Vanilla)
BEST Oatmeal (with PB&J!)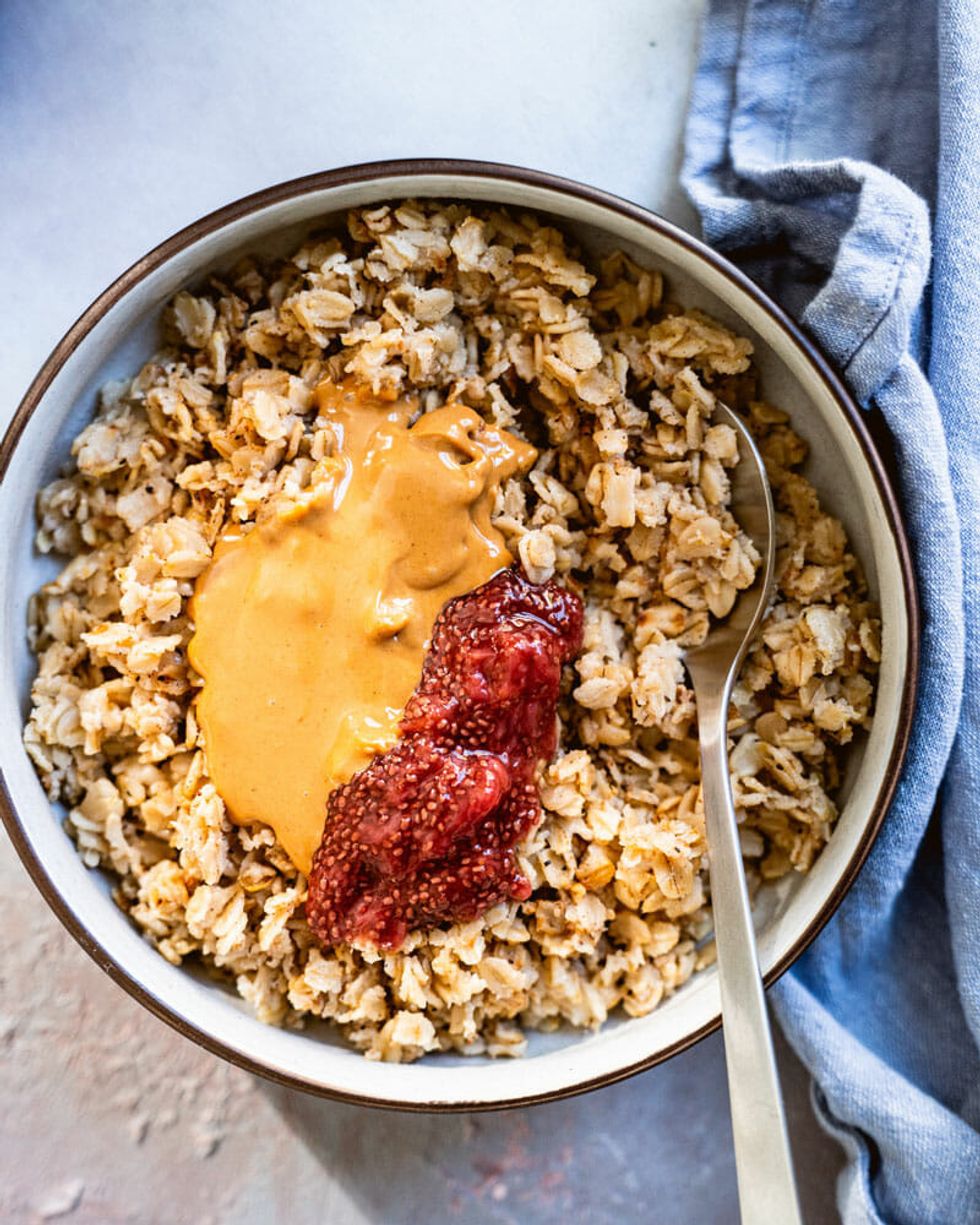 The best way to start the day? With this incredibly tasty oatmeal! It's delightfully chewy (not gloppy!), and topped with peanut butter and vegan strawberry jelly. It's a taste treat packed with plant-based protein. (via A Couple Cooks)
Fancy Avocado Toast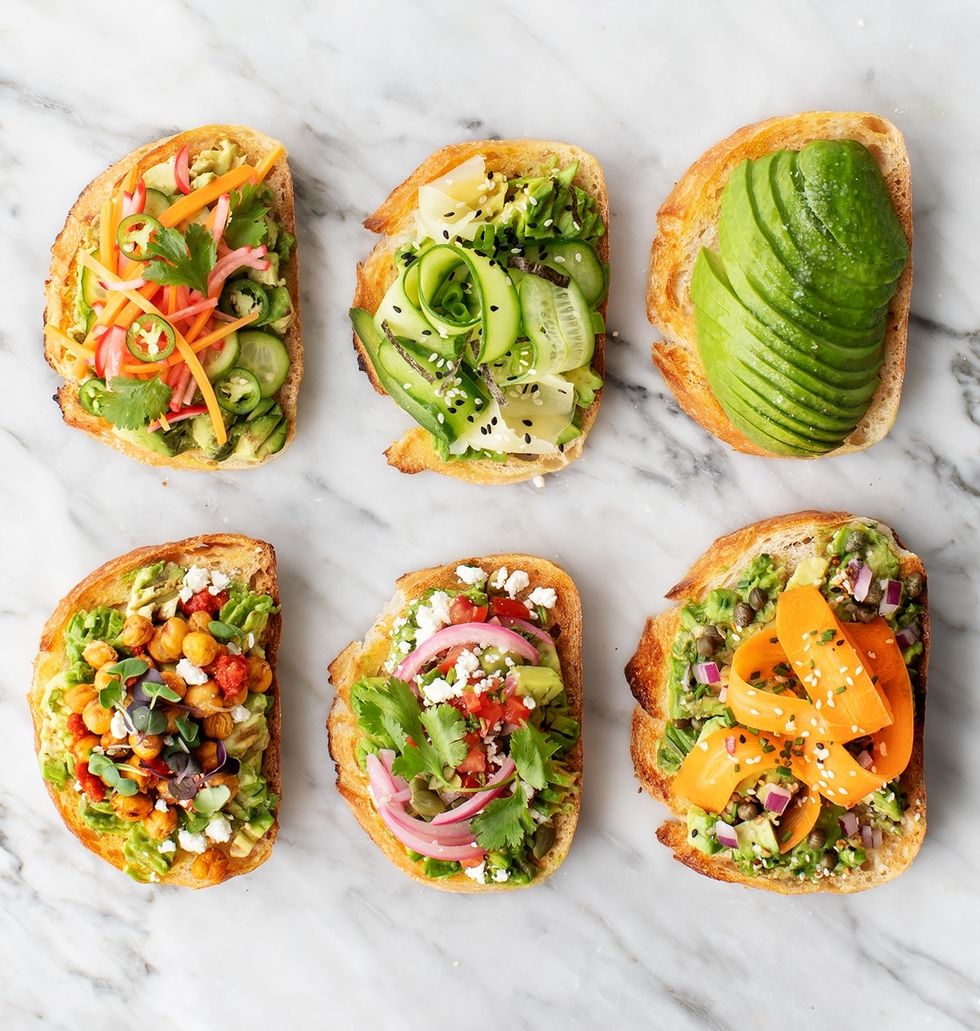 Avocado toast is classic for a reason: so good and so versatile. Here's a simple way to eat a filling, savory plant-based breakfast. Get creative and try the topping variations. (via Love and Lemons)
Blackberry Walnut Overnight Oats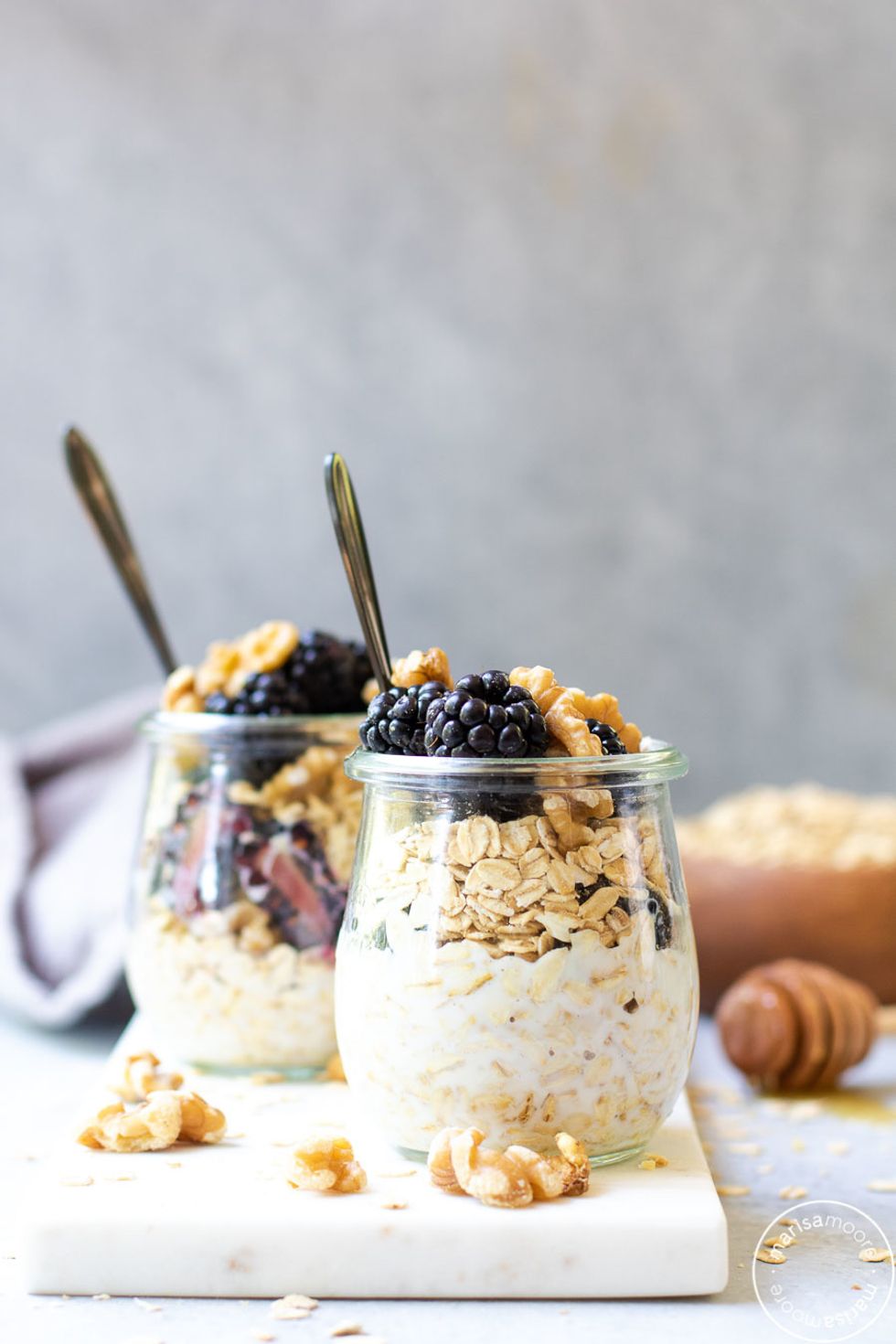 Make up these jars of overnight oats the night before, and you'll have an easy grab-and-go breakfast! To keep it plant-based, use your favorite non-dairy milk: almond milk, oat milk or cashew milk are great options. (via Marisa Moore)
Sweet Potato & Kale Breakfast Hash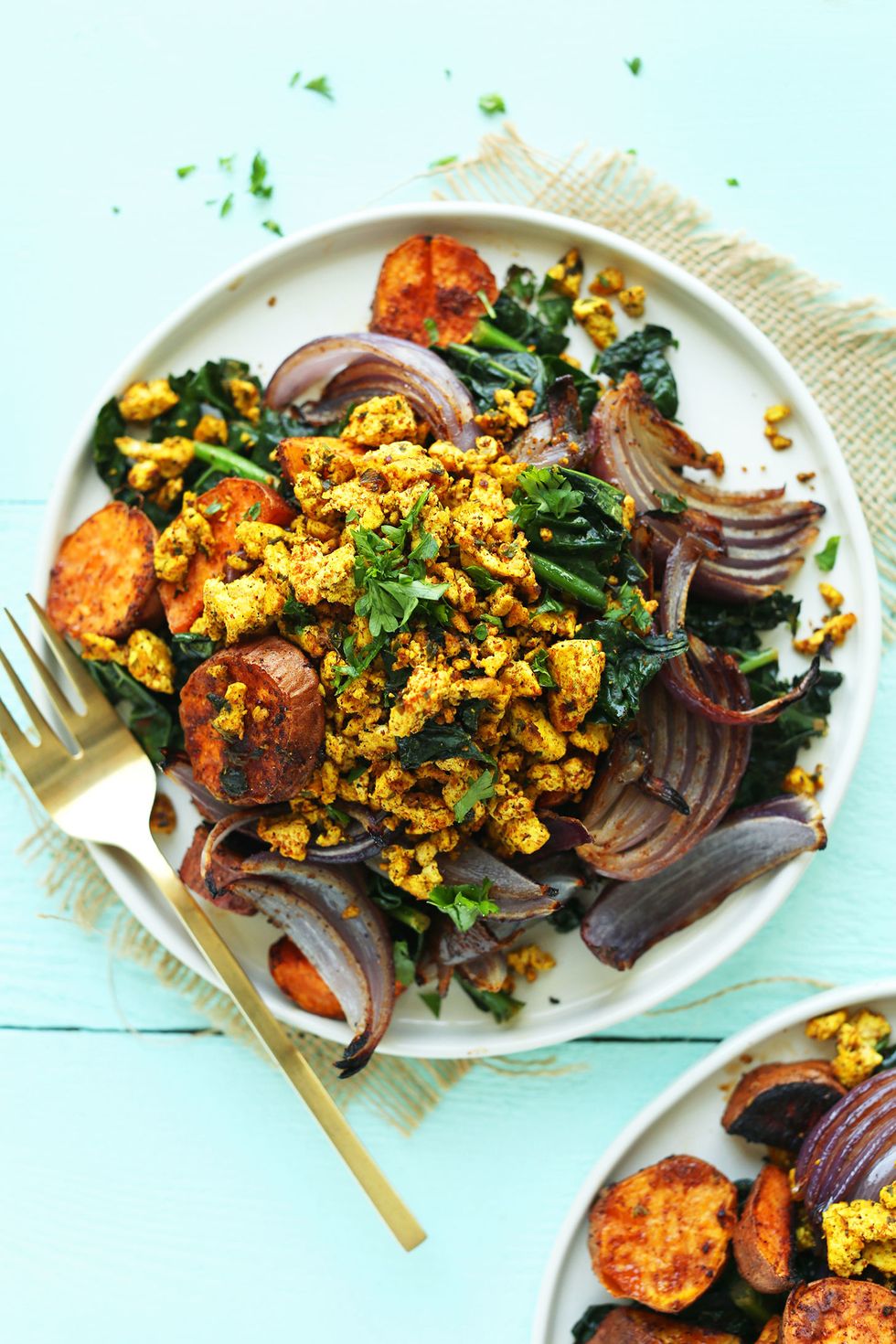 Want a super hearty start to the day? This breakfast hash is full of plant-based protein and roasted sweet potatoes and red onion. Make a big batch and eat off of it all week! (via Minimalist Baker)
Chai Spiced Vegan Muffins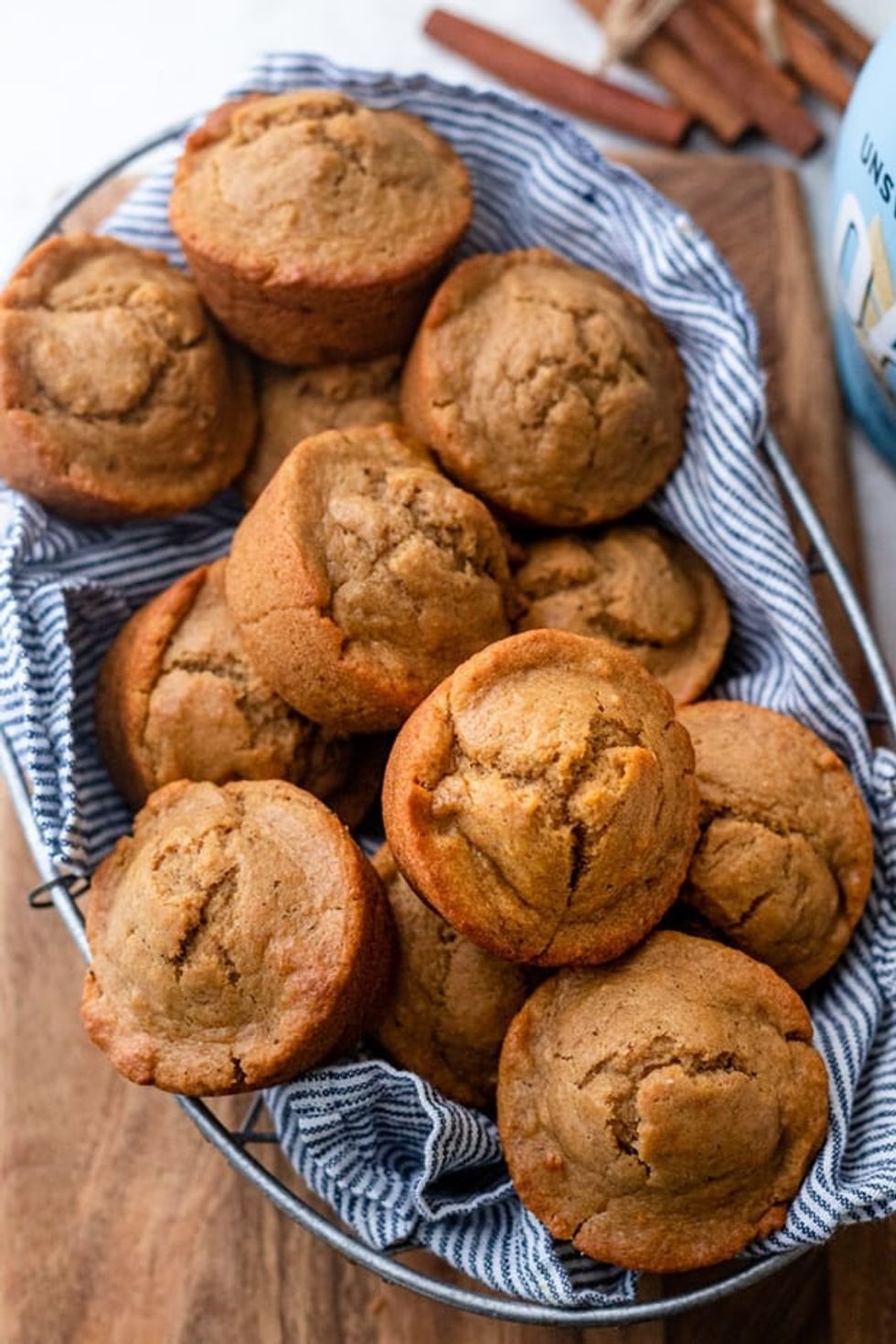 Here's a make-ahead breakfast that's easy to grab on the go. Make up a batch of warmly spiced muffins, and have peanut butter at the ready. It's a tasty way to start the day! (via Feel Good Foodie)
Chickpea Scramble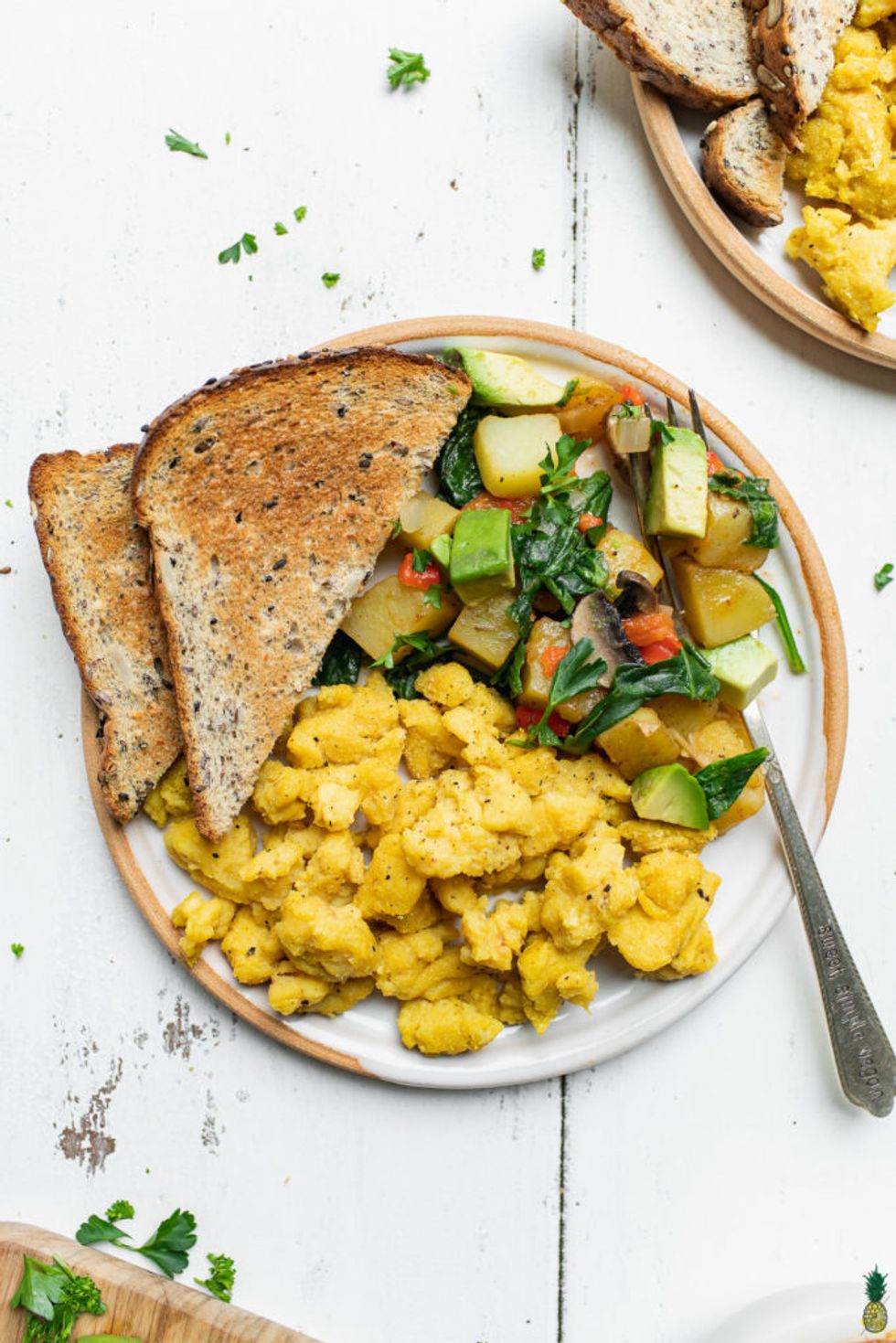 Who needs eggs when you can have a chickpea scramble? Surprisingly enough, the texture and flavor are incredibly closer to the real thing. Flavor tip: who knew Indian black salt adds an eggy flavor? Stock up on this plant-based trick by ordering it online. (via Sweet Simple Vegan)
Apple Pie Smoothie Bowl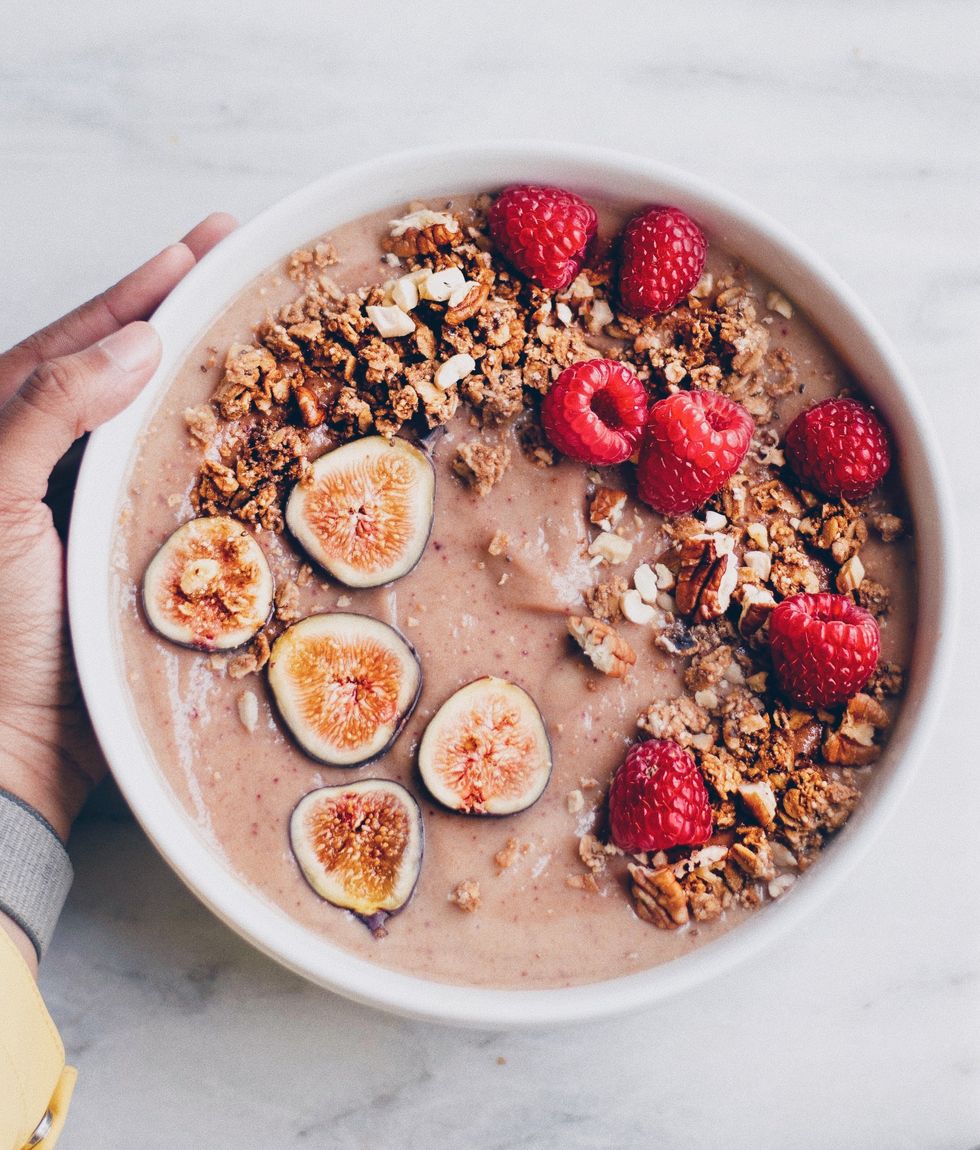 Want apple pie for breakfast? Try it in smoothie form. This vibrant apple pie smoothie is full of good-for-you ingredients: top with nuts and fruit for filling way to start the day. (via Haile Thomas)
Carrot Cake Breakfast Cookies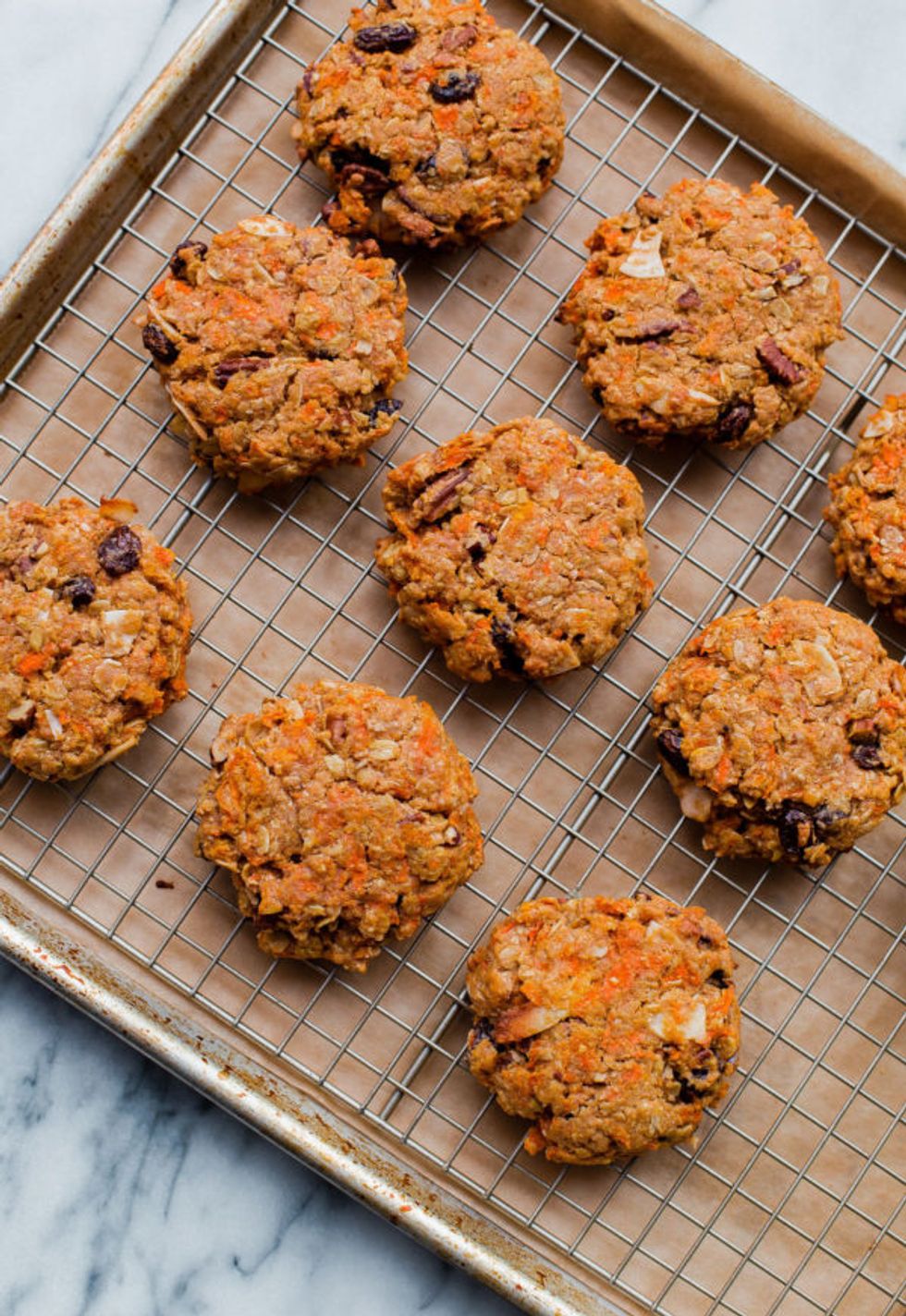 These spiced breakfast cookies are full of hearty oats, maple syrup, and bright orange carrots. Easy to make in advance, you can freeze them and pull them out of the freezer for mornings on the go! (via A Beautiful Plate)